How do I publish content with Scoop.it?
There are four different ways to publish content to your topics. You can scoop:
from your suggestions,
from the bookmarklet,
from a URL,
or rescoop content from your fellow curators.
When you scoop a piece of content, the publishing window appears. Scoop.it gathers the title, image, and an excerpt from the original content - you can edit these by clicking on the one you'd like to change. Then, you can add your insight in the box below the excerpt for maximum engagement and SEO.
1. Using the suggestion engine to post
You might be receiving an email every day letting you know that you have suggestions waiting to be curated. The suggestions are the content that we've found from around the web based upon the keywords that you provided for us that we think might be interesting to you.
To access this content, visit your topic page, then click on Suggestions in the top righthand corner.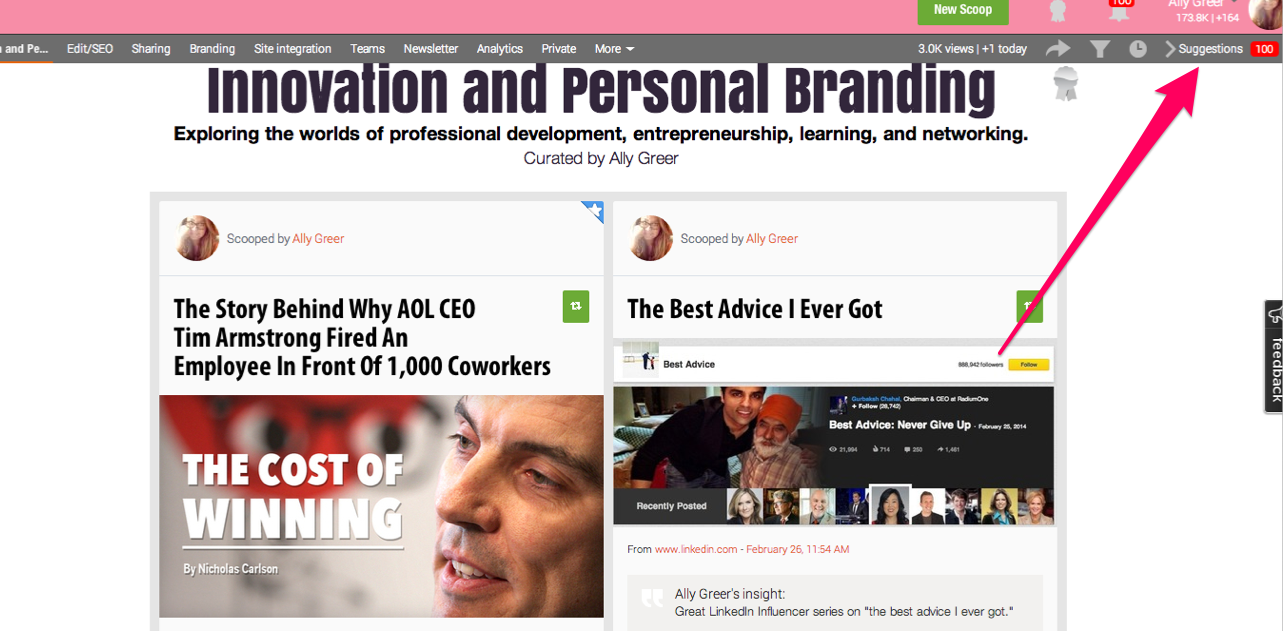 2. Using the bookmarklet to post on the fly

If you're browsing the web and find an article you'd like to scoop, just click the bookmarklet and the publishing window will appear without even leaving the page you're on.
To install the bookmarklet, click here. Make sure your bookmarks bar is visible and just drag it up!
Pro Tip: the bookmarklet allows you to choose which excerpt you want to add to your scoop by highlighting the text within the original page before clicking on the Scoop.it! button.
3. Posting via a URL

If you have a URL that you'd like to scoop to one of your topics but aren't on that page, you can simply click on the New Scoop window on top of your topic page, then enter the URL and Scoop.it will gather the rest of the information (that you can also edit afterwards).

4. Rescooping from fellow curators

If you see a scoop on another topic that you particularly like, just click on the green Rescoop button to publish it to your topic. You can add additional insight to rescoops as well.